Your sentimental or old unused jewellery Handmade into exceptional quality signet rings, cufflinks, wedding rings & pendants
plain or custom engraved in England
As a direct result of Royal Mail incompetence , this service is no longer available
Video below is the beginning of the process
Saving you money and environement friendly, VAT Free , only my hourly rate to pay as i work at home with no expensive rent or staff to pay. Crest engraved signet rings are my speciality
Send in your old used obsolete jewellery to be re made into heavyweight totally handmade exceptional quality jewellery at a FRACTION of the normal high street retail selling price.
I have my own master patterns for oxford oval and cushion shape signet rings in multiple different head sizes.
Each design i also have in 26 finger sizes from finger size A to finger size Z , adjustable to half finger sizes. Each ring therefore is custom cast to your finger size requiring minimal adjustement & as a result the absolute minimum wastage in the filing and finishing process.
Laser engraving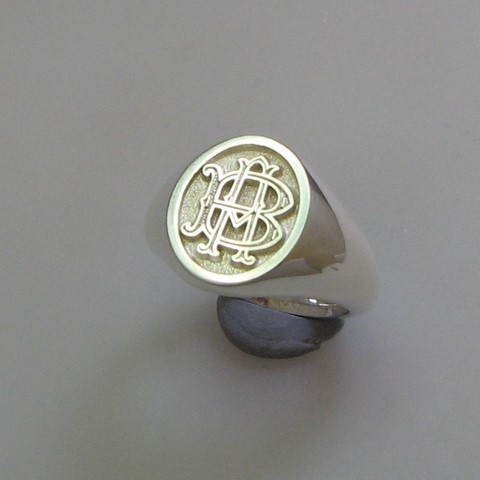 As a result of my 40 + years manufacturing experience and a lifetime of individually hand casting one ring at a time, my finished rings are generally heavier thicker and a superior shape to many of the inferior quality products available today. Guaranteed porosity free.
All work carried out by one craftsman at one premises , I also provide a laser engraving service including initials , monograms , masonic and heraldic.
Deep reverse crest or seal engraving which closely resembles the work of hand engravers at roughly half the price.
Every Item of jewellery provided in a free leatheret gift box , with an impression of the engraving, returned to you via Royal Mail insured postage.
Although heavyweight handmade signet rings are my personal speciality I am also able to provide the same service for making wedding rings , cufflinks and pendants for sentimental or environemental reasons.
Video below of filing & finishing signet ring
Prices of popular work plain or engraved
Signet or wedding ring made from your 9ct gold £150.00
Signet ring 9ct including deep reverse crest engraving £350.00
Signet ring 9ct including deeply engraved initials in script £195.00

Cufflinks made from your 9ct gold £350.00
Cufflinks 9ct including 2 x crest engravings £650.00
Cufflinks 9ct including deeply engraved initials in script £425.00

Coat Of Arms
Via estimate only appx £150.00 extra
All 18ct gold items 50% extra on above prices
There is no legal obligation for me to send to assay office for hallmarking, can be marked inside 9ct.375 or 18ct.750 your order can be completed in just 2 weeks.
Unfortunately due to covid 19 a request to send for hallmarking will incur an additional fee of either £55.00 for it to be returned within 4 weeks or £20.00 if you are willing to wait up to 8 weeks.
Frequently asked questions

Trade clients please telephone for pricing , delivery etc.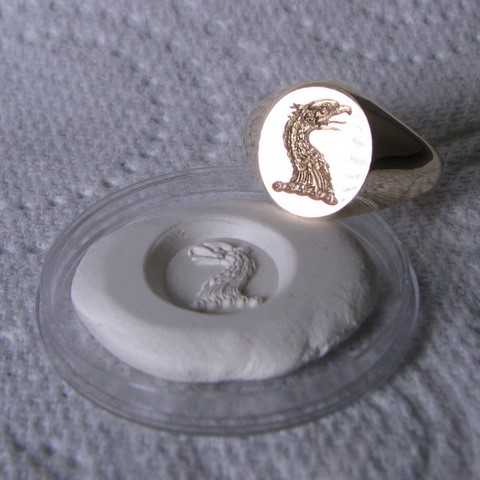 Please may i visit your workshop
Sorry no i do not entertain clients in my home workshop
Roughly how heavy are your signet rings ?
Ladies average 9ct 6 to 8 grams , mens average 9 to 14 grams 18ct. weigh 50% more than 9ct
How do your rings compare to die stampings ?
Apart from mine are a superior shape as rounded on the inside for comfort, they are almost identical in appearance and wearability.
Other suppliers say castings are inferior and porous is this true ?
Cheap mass produced castings are very inferior , mine are vastly better.
How do your laser engravings compare to hand engravings ?
As you can clearly see from my photographs , my laser engraved crests are similar in depth and appearance to hand engraved , my initials tend to be engraved far deeper
Do you supply a guarantee ?
Yes , all my work is guaranteed , however due to postal issues I do not accept rings back for re-sizing hence i send out sizing kits to avoid mistakes
Initials engraved deeply by laser and enhanced by hand from £20.00 per initial up to £250.00 if reversed seal style engraved
Mail order only, reduced internet pricing
Sorry no clients are allowed to visit my workshop
Landline 0208 0909340 Mobile 0754 1387405
Fill out the form for a call back
Please include as much detail as possible to assist with inquiry